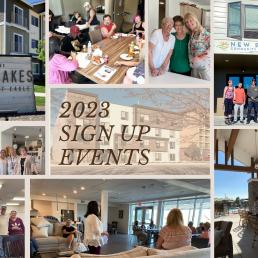 2023 Community Sign Up Events
Resident Rewards Sign Up events have been in full swing over the past year and the turn out has been bigger than ever! We've had the privilege of being invited to over 10 properties, resulting in several hundred new resident sign-ups and we could not be happier about the result. While our focus during these events has always ben to explain the program and get residents excited about what they can earn, we've added an emphasis on explaining our quizzes to residents in hopes that they take away some newfound insight about how to address a number of potential situations that may arise in their community, such as water conservation, what to do during a fire, swimming pool safety and more. Getting to hear feedback in person from our residents about what they've learned and how they've been able to put their new knowledge into practice is why we do what we do, and the rewards they earn in the process makes the experience that much sweeter. We are so grateful for all of the events we've been able to be apart of, our property managers who work with us every step of the way, and most of all, our residents for their participation and dedication to our program. Here's to many more community events in the future!
---
¡Los eventos de registración del programa de Recompensas para Residentes han estado en pleno apogeo durante el último año, y la participación ha sido mayor que nunca! Hemos tenido el privilegio de ser invitados a más de 10 comunidades, lo que resultó en various cientos de registros de nuevos residentes y estamos muy felices con el resulado obtenido. Si bien nuestro enfoque durante estos eventos siempre ha sido explicar el programa y hacer que los residentes se entusiasmen con lo que puedes aprender y ganar, hemos agregado mucho énfasis en explicar nuestros cuestionarios, y la importancia en tomarlos. Nuestro propósito principal es que nuestros residentes obtengan una nueva visión sobre cómo abordar y evitar una serie de situaciones potenciales que pueden surgir en su comunidad; por ejemplo: como poder conservar agua, qué hacer durante un incendio, seguridad en la piscina y mucho más. Escuchar en persona los comentarios de nuestros residentes sobre lo que han aprendido y cómo han podido pone en práctica sus nuevos conocimientos es la razón por la que hacemos lo que hacemos, y las recompensas que obtienen en el proceso hacen que la experiencia sea mucho mejor. Estamos muy agradecidos por todos los eventos en los que hemos podido participar, y por la ayuda que recibimos de los administradores de propiedades que trabajan con nosotros en cada paso del camino. Sobre todo, agradecemos a nuestros residentes por su participación y dedicación a nuestro programa. ¡Esperamos muchos más eventos comunitarios en el futuro!