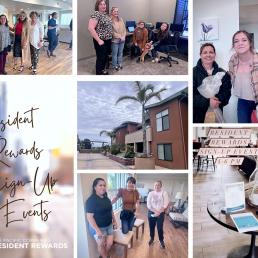 Community Sign-Up Events
As properties are beginning to open their community back up again, we've had the privilege of being able to host several Resident Rewards Sign-Up Events in the past couple of months! This is one of our favorite things to organize as a Resident Rewards Team, as we get to interact with managers and residents one on one, and share all of the benefits this program has to offer. First time Resident Rewards members are shown how simple it is to earn rewards and are entered into our new user's raffle; our returning members come and share with our team and with their managers and neighbors how blessed they've been by the program in a variety of ways. We're so grateful to everyone involved who've made these events possible, from property managers to residents alike, and are hopeful that this is just the beginning. We are excited to continue offering this great opportunity for all our residents to receive rewards, and we so much value your commitment to making our communities a desirable place to call home!
A medida que las propiedades están comenzando a abrir nuevamente sus espacios communitarios, ¡hemos tenido el privilegio de poder organizar varios eventos de rifas de registro de Recompensas para Residentes en los últimos dos meses! Esta es una de nuestraas actividades favoritas para organizar como equipa de recompenses para residentes, ya que podemos interactuar con los administradores y los residentes uno a uno, y compatir todos los beneficios que ofrece nuestro programa. A los nuevos miembros de Recompensas para Residentes se les muestra lo simple que es ganar recompensas y participar en la rifa de nuestros nuevos usarios; y nuestros miembros que regresan vienen y comparten con nuestro equipo y con su gerente y vecinos cuán bendecidos han sido por el programa en una variedad de formas. Estamos muy agradecidos con todos los que han hecho posible estos eventos, desde los administradores de propiedad hasta los residentes, y esperamos que esto sea solo el comienzo. ¡Nos complace continuar ofreciendo esta gran oportunidad para que todos nuestros residentes reciban recompensas, y valoramos su compromiso de hacer de nuestras comunidades un lugar deseable para llamar hogar!